Eggy Nursery Rhymes – sing along and learn early literacy skills!
Your child can learn essential early literacy skills while singing along with Eggy Nursery Rhymes – the iPad app that brings ten classic nursery rhymes to life with colourful animations, catchy music, and highly interactive activities that make learning fun!
Making the most of all the great features of the iPad, this app includes a unique and very fun game that allows your child to sing along with their favourite nursery rhymes, karaoke style! Another great game lets your child have fun creating their own animations for each nursery rhyme using the 'touch and drag' motion.
Your child will also love the three additional reading games that emphasize touch while teaching core early literacy skills including rhyme, phonemic awareness, spelling, and word recognition.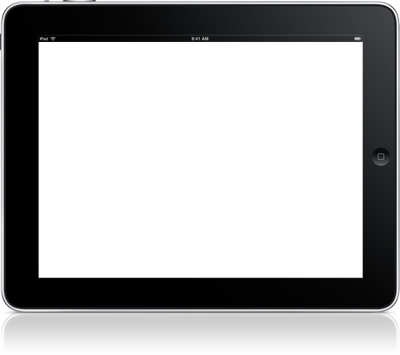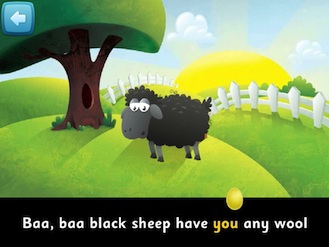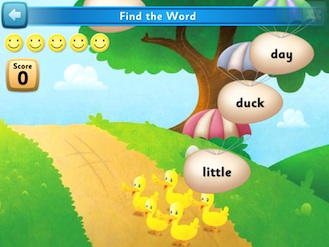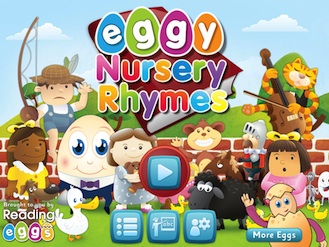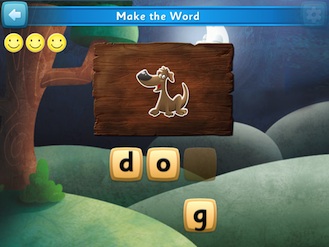 Download Eggy Nursery Rhymes from iTunes
Eggy Nursery Rhymes includes ten nursery rhymes, with five activities to complete for each, including Sing Along, Make Your Own, Find the Word, Starts With, and Make the Word – that's 50 activities in total!

Key features
For the iPad.
Suitable for children aged 3+.
Includes 10 classic nursery rhymes.
5 activities for each nursery rhyme – that's 50 in total!
3 difficulties to choose from.
Sing along with the bouncing ball, karaoke style.
Kids can create their own animations to go with each nursery rhyme.
Fun rewards to earn including 120 golden eggs and 18 critters to hatch and collect.
Introduces the many core elements of reading including rhyme, oral reading intonation, pronunciation, phonemic awareness, spelling and word recognition skills.
Choose between 3 accents – Australian, UK and US.
Eggy Nursery Rhymes is brought to you by the makers of

ABC

Reading Eggs – a team of educators with more than 25 years' experience in early childhood education.
If you have any questions about Eggy Nursery Rhymes, please email us at apps@readingeggs.com